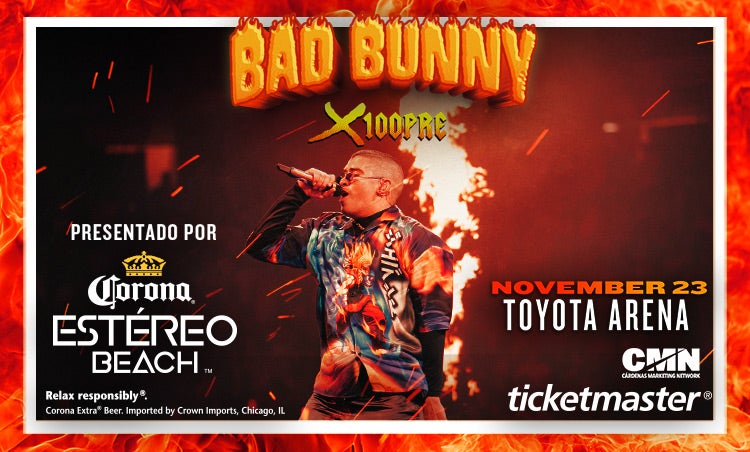 Following Overwhelming Success with Sold Out Shows in Miami, Portland, Seattle, Chicago and Austin, Bad Bunny Brings Back X100PRE Tour to More Cities this Fall
On the heels of his highly-successful tour, GRAMMY-nominated rapper-songwriter and Latin music's "King of Trap," Bad Bunny, is announcing the extension of his North American X100PRE Tour Presented by Corona Estéreo Beach. Kicking off this fall in Boston on October 25, the more than 20 plus stop tour produced by CMN Entertainment will make stops in Newark, Washington D.C., Atlanta, Las Vegas, San Diego, San Antonio, Houston and more, and will conclude in Tampa.
Bad Bunny has had a remarkable start to 2019, from releasing his chart-topping debut LP "X100PRE" in late December to kicking off his highly-praised X100PRE tour in March with sold out shows in Miami, Portland, Seattle, Chicago, Austin and Dallas. The high-energy tour, which still has upcoming shows in markets like Orlando, Los Angeles and New York City among others, has received praise from critics, with reviews highlighting the 360-degree mappable LED stage that gives his audience views of him from any point in the arena, videos that give a deeper glimpse into his journey of becoming Bad Bunny, and surprise performances from some of Latin music's hottest artists like J Balvin, Becky G, Farruko and Zion of Zion y Lennox.
As part of the tour partnership with the brand, Corona Estéreo Beach will bring a sensory experience - building a vibe around the mindset of relaxing with friends and creating an energetic environment alongside the reggaeton sounds of Bad Bunny that will get everyone moving.
"I'm thrilled to have Corona join me on my X100PRE Tour to give my fans a taste of Corona Estéreo Beach and showcase their support of Latin music," It's not solely about the music – it's about the culture, creativity, and contributing to the movement that connects us all together" says Bad Bunny.
The vibrant concert atmosphere will offer exclusive access to custom Corona branded experiences for fans across the country, while immersing music lovers in the carefree Corona lifestyle.
"We're thrilled for Corona Estéreo Beach to go on the road with Bad Bunny on his X100PRE tour this year," said Ann Legan, Vice President of Brand Marketing, Corona. "As a brand that has been celebrating music for years, the relationship with Bad Bunny allows Corona Extra to continue building equity while reaching a core shared audience with one of the hottest Latin artists out there."
Preferred Parking – LOT I - $50.00
Preferred Parking offers guests the most convenient access into the Arena. Lot I is located on the North West side of our venue, which is easily accessed from 4th Street and Via Asti. Once parked, guests will experience swift entry to the Arena through the North West Entrance.
Preferred Parking is extremely limited and can be purchased in advance on Ticketmaster.com.
---
ABOUT BAD BUNNY:
Bad Bunny, originally from Puerto Rico, is most recognized for his explosive and infectious trap songs. Rolling Stone magazine has named him "The Four-Billion-Stream Man leading the Latin Trap Explosion." This talented artist has demonstrated his already overwhelming power, influence and demand with completely sold-out concerts for his "La Nueva Religión Tour" (The New Religion Tour) all over Europe, Latin America and the U.S. His unmistakable voice and rhythm have led him to transition to the general market, where he is already creating waves of revolution with his participation in "I Like It" alongside Cardi B and J Balvin, which reached #1 on Billboard's Hot 100 chart and has continued to dominate the chart in the top 3 position. He has been nominated to the iHeart Radio Music Award, MTV VMA's, Latin AMAs, Latin GRAMMYs, and E! People Choice Awards. Earlier this fall, Bad Bunny celebrated being the face of the cover of FADER magazine where the artist boasts a feature story that perfectly recaps his story and properly introduces him to the American market as the Latin trap superstar he has become.
---
Tras un exitoso comienzo con presentaciones agotadas en Miami, Portland, Seattle, Chicago, Austin y Dallas, Bad Bunny trae la gira X100PRE a más ciudades este otoño
A raíz de su gira exitosa, el rapero, nominado al GRAMMY y el "Rey del Trap" de la música latina, Bad Bunny, anuncia la extensión de su gira norteamericana X100PRE Presentado por Corona Estéreo Beach. Comenzando este otoño en Boston el 25 de octubre, la gira de más de 20 paradas producida por CMN Entertainment hará paradas en Newark, Washington, D.C., Atlanta, Las Vegas, San Diego, San Antonio, Houston y más, y concluirá en Tampa el 8 de diciembre.
Bad Bunny ha tenido un comienzo espectacular en 2019, desde lanzando su primer álbum debut "X100PRE" a finales de diciembre, a su alabada gira X100PRE en marzo, con conciertos agotados en Miami, Portland, Seattle, Chicago, Austin y Dallas. La gira energética, que aún tiene próximas presentaciones en ciudades como Dallas, Orlando, Los Ángeles y Nueva York, entre otros, ha recibido elogios, con críticas que destacan el escenario LED de 360 ​​grados que se puede visualizar desde cualquier punto de la arena, videos que le dan una visión más profunda a su trayectoria como artista, y sorpresas por algunos de los artistas más populares de la música latina como J Balvin, Becky G, Farruko y Zion.
Como parte de la asociación de la gira con la marca, Corona Estéreo Beach, brindará una experiencia sensorial: desarrollará un ambiente alrededor de la mentalidad de relajarse con amigos y creará un ambiente energético junto con los sonidos del reggaetón de Bad Bunny que harán que todos bailen.
"Estoy encantado de que Corona se una a mí en mi gira X100PRE para que mis fanáticos disfruten Corona Estéreo Beach y su apoyo a la música latina", dijo Bad Bunny. "No solo se trata de la música, se trata de la cultura, la creatividad y como contribuimos al movimiento que nos une a todos".
La atmósfera vibrante del concierto ofrecerá acceso exclusivo a las experiencias personalizadas de la marca Corona para los fanáticos de todo el país, mientras que sumergirá a los amantes de la música en el estilo de vida despreocupado de Corona.
"Estamos encantados de que Corona Estéreo Beach se junte con Bad Bunny en su gira X100PRE este año", dijo Ann Legan, vicepresidenta de marketing de marca de Corona. "Como una marca que ha estado celebrando la música por muchos años, la relación con Bad Bunny le permite a Corona Extra continuar construyendo equidad al mismo tiempo de alcanzar una audiencia compartida principal con uno de los artistas latinos más populares".
Los boletos de preventa estarán disponibles a partir del 11 de abril y los boletos para el público general estarán a la venta el 12 de abril. Para comprar boletos y ver el calendario completo de la gira, visite www.cmnevents.com
ACERCA DE BAD BUNNY
Bad Bunny, originario de Puerto Rico, es más reconocido por sus canciones explosivas e infecciosas. La revista Rolling Stone lo ha nombrado "The Four-Billion-Stream Man, líder de Latin Trap Explosion". Este talentoso artista ha demostrado su poder, influencia y demanda con la venta abrumadora de sus conciertos agotados de "La Nueva Religión Tour" que visitó toda Europa, América Latina y los Estados Unidos. Su inconfundible voz y ritmo lo llevaron a la transición al mercado general, donde ya está creando olas de revolución con su participación en "I Like It" junto a Cardi B y J Balvin el cual alcanzó el número 1 en la lista Hot 100 de Billboard y ha seguido dominando las listas en la posición #3. Además, Bad Bunny ha sido nominado para el iHeart Radio Music Award, MTV VMA, Latin AMAs, Latin GRAMMYs, GRAMMYs y los Premios People Choice. El año pasado, Bad Bunny celebró ser el rostro de la portada de la revista FADER, donde el artista cuenta con una historia que resume perfectamente su historia y lo presenta al mercado estadounidense como la súper estrella del trap latino en la que se ha convertido.
Read More