Cirque du Soleil Crystal
A Breakthrough Ice Experience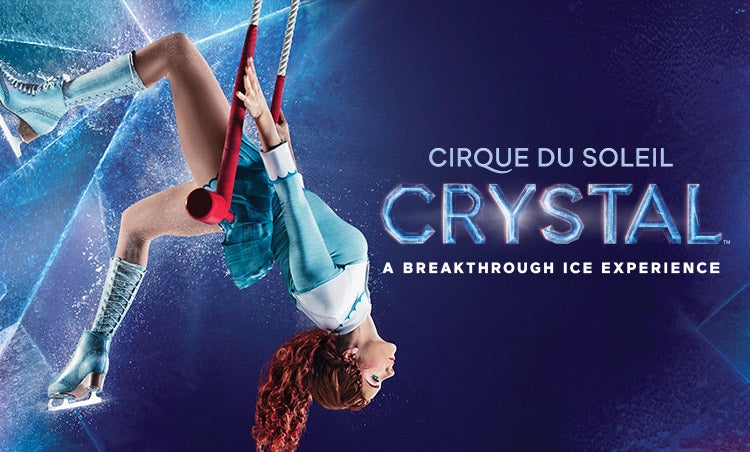 Cirque du Soleil is thrilled to return to Ontario with its coolest arena show yet—CRYSTAL. This unique arena production—Cirque du Soleil's first-ever experience on ice— showcases synchronized, freestyle and extreme skating alongside circus disciplines such as swinging trapeze, aerial straps and hand-to-hand. CRYSTAL will perform at Ontario's Citizens Business Bank Arena from Wednesday, March 13 through Sunday, March 17 for seven performances only.
Watch world-class ice skaters and acrobats explore their new frozen playground with speed and fluidity as they challenge the laws of gravity with never-before-seen acrobatics. CRYSTAL fuses circus arts and the world of ice skating in a stunning new production that will take the audience on a journey into a surreal world where figure skating blends with acrobatics and aerial feats.
SHOW SCHEDULE
Wednesday, March 13 at 7:30 pm
Thursday, March 14 at 7:30 p.m.
Friday, March 15 at 7:30 p.m.
Saturday, March 16 at 4 p.m. and 7:30 p.m.
Sunday, March 17 at 1:30 p.m. and 4 p.m.
Photography and Video recording of any kind is strictly prohibited during the live performances.
More about CRYSTAL – A Breakthrough Ice Experience
Directed by Shana Carroll and Sebastien Soldevila, Crystal, our misfit heroine, takes you on an exhilarating tale of self-discovery as she dives into a world of her own imagination. Feel the adrenaline as she soars through this surreal world at high speed to become what she was always destined to be: confident, liberated, and empowered. CRYSTAL invites you to suspend reality and glide into a world that springs to colorful life with astounding visual projections and a soundtrack that seamlessly blends popular music with the signature sound of Cirque du Soleil.
CRYSTAL is suitable for all ages.
We gratefully acknowledge our Official Partner Sirius.
Follow #CRYSTAL and #cirquedusoleil on social media: Facebook | Twitter | Instagram | Youtube
Read More