Hot Wheels Monster Trucks Live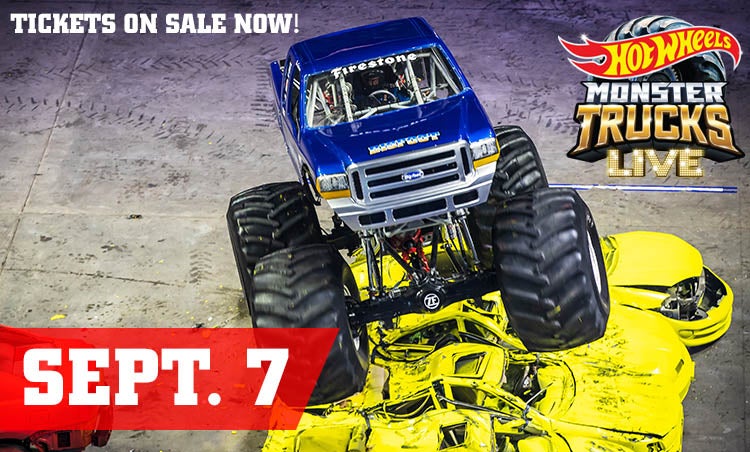 Hot Wheels™ Monster Trucks Live will visit Toyota Arena on September 7th for 2 performances. The inaugural tour launched in January, brings the famous Hot Wheels™ Monster Trucks to life in a full-size, kid-focused, immersive Hot Wheels® experience for the first time ever!
Tickets are available at www.hotwheelsmonstertruckslive.com and prices are $42-$35-$25 and kids tickets are $8. Tickets are subject to convenience and facility fees.
*Guests ages 2 – 12 years old require a children's ticket. Guests ages 13 years or older require an adult ticket. Strollers and baby carriers should be left in vehicles. If brought into the Arena, these items are subject to being searched and must be checked in at Guest Services for a $5 cash only fee.
TRAFFFIC ADVISORY
Closures on the 60 Freeway from Ontario to Riverside will be in effect through mid-November and may cause traffic delays to and from the Arena.
Eastbound lanes between Interstate 15 and the 60/91/215 junction in Riverside will be closed for several weekends, followed by Westbound closures.
These lanes will be closed Friday at 10 PM thru Monday at 5 AM on weekends and from 10 PM to 5 AM on weekday nights.
For more information, visit our website.
Hot Wheels™ Monster Trucks Live features six Monster Trucks: Bone Shaker™, Tiger Shark™, V8 Bomber™, Demo Derby, Hot Wheels® Racing 1 and the original and King of Monster Trucks, BIGFOOT®. The stars of the show perform iconic jumps and stunts with epic crashing and smashing as they entertain fans during several competition segments within the show. In addition, each show features the high-flying talents of freestyle motocross performers Josh Headford, Cody Elkins and Brody Wilson, as well as the fan-favorite Megasaurus, a fire-breathing, car-eating, transforming robot.
The Crash Zone Pre-Show Party will be open prior to all shows, giving fans a chance to come early to meet the Monster Truck drivers, get amazing close-up photos and see the unbelievable new Hot Wheels™ Monster Trucks up close and in person. All patrons with a ticket to these shows are invited to the Crash Zone Pre-Show Party for free! A valid event ticket is required to enter the venue for the Crash Zone Pre-Show Party but does not guarantee entry as there is a Crash Zone event capacity, which will be monitored by the venue on event day. Entry into the Crash Zone Pre-Show Party will be on a first come, first serve basis.
A post-show autograph session will take place on the concourse after every show. Fans have the chance to collect autographs from all the show performers including every Monster Truck driver.
The Hot Wheels™ Monster Trucks Live tour is a partnership between Mattel and Raycom-Legacy Content Company. Visit www.HotWheelsMonsterTrucksLive.com for more information.
About Mattel, Inc.
Mattel (NASDAQ: MAT) is a leading global children's entertainment company that specializes in design and production of quality toys and consumer products. We create innovative products and experiences that inspire, entertain and develop children through play. We engage consumers through our portfolio of iconic franchises, including Barbie®, Hot Wheels®, American Girl®, Fisher-Price® and Thomas & Friends®, as well as other popular brands that we own or license in partnership with global entertainment companies. Our offerings include film and television content, gaming, music and live events. We operate in 40 locations and sell products in more than 150 countries in collaboration with the world's leading retail and technology companies. Since its founding in 1945, Mattel is proud to be a trusted partner in exploring the wonder of childhood and empowering kids to reach their full potential. Visit us online at www.mattel.com.
Read More