Kidz Bop World Tour 2019
Presented by Nederlander Concerts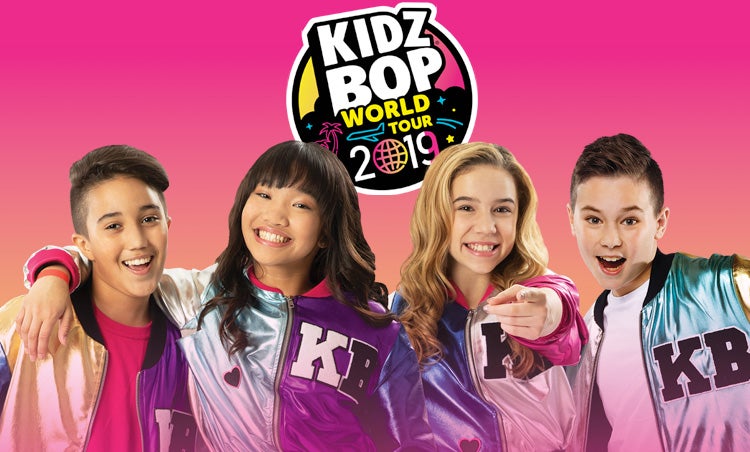 Kidz Bop World Tour 2019 Presented by Nederlander Concerts
The KIDZ BOP Kids, Billboard Magazine's "#1 Kids' Artist" for nine consecutive years, are bringing their interactive family-friendly concert experience to new cities including Miami, Orlando, and New Orleans. After successful amphitheater shows this summer, The KIDZ BOP Kids will head back to Atlanta, New York, and Ontario, California, playing in iconic performing arts centers this fall. The KIDZ BOP Kids will perform some of today's biggest global pop hits live on stage. The concert features awesome set design, costumes, exciting choreography, and tons of cool surprises! Dads even have the chance to show off their best dance moves on stage during the "Daddy Dance Off."
Subway Fresh Fit for Kids® and KIDZ BOP Radio on SiriusXM's Channel 77 are official partners of the KIDZ BOP World Tour 2019. Subway Fresh Fit for Kids® is a leader in offering on-the-go families balanced, customizable meals, and better-for-you kids' meals. SiriusXM's KIDZ BOP Radio (Ch. 77) features The KIDZ BOP Kids hosting a 24/7 party, which includes today's biggest hits, sung by kids for kids.
KIDZ BOP 40 will feature today's biggest hits including "Truth Hurts," "Senorita," and "Old Town Road." On November 15, KIDZ BOP will release new albums in the UK and Canada as well.
KIDZ BOP records kid-friendly versions of today's biggest pop music hits sung by kids, for kids. Over the past 18 years, KIDZ BOP has created the #1 music brand for kids, selling more than 16,000,000 albums. Since 2001, families have welcomed KIDZ BOP into their homes and cars, making KIDZ BOP a fun and safe part of their daily lives. KIDZ BOP is proud to be a part of kids' music "firsts." For millions of kids each year, KIDZ BOP is their first introduction to pop music, and for tens of thousands of kids, the KIDZ BOP Kids Live Tour is their first concert experience.
Read More