Los Ángeles Azules
Presented by Nederlander Concerts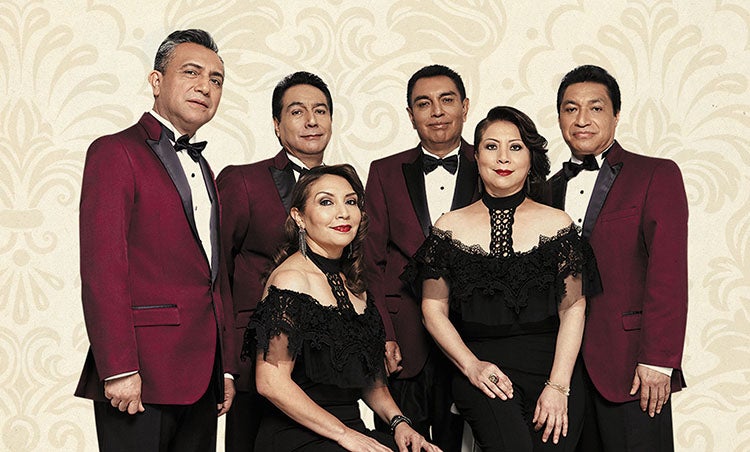 Los Ángeles Azules known worldwide as the creators of the symphonic cumbia, return to the U.S. with their "Esto Si Es Cumbia" tour making a stop at Toyota Arena on Friday, September 27.
With sell out performances in Los Angeles, San Jose and across the country, Los Ángeles Azules fans will enjoy all their hits including "El Liston de tu pelo," "Como Te Voy a Olvidar," "Mi niña Mujer," "Entrega de Amor," "Mis Sentimientos," "17 Años," and more. This will be an unforgettable show.
Their most recent album "Esto Si Es Cumbia", recorded in Yucatan MX, went on sale last summer and has featured artists such as Ha*Ash, Gloria Trevi, Migue l Bosé, Fito Páez, etc. Their current single "Nunca Es Suficiente" with Natalia afourcade is on Apple Music's "Best of 2018" list and is #6 on radio charts.
Los Ángeles Azules, conocidos alrededor del mundo como los creadores de la cumbia sonidera o sinfónica, regresan a Estados Unidos con su gira "Esto sí es cumbia". Una de sus paradas será en el Toyota Arena de Ontario, California, el viernes 27 de septiembre de 2019.

En 2018 la banda mexicana llevó a cabo más de 30 actuaciones en Estados Unidos, lo que convirtió a tal gira en la más exitosa de su carrera. Entre otras presentaciones destacadas, cabe citar su participación en festivales como Coachella y Tropicalia, este último en Long Beach, CA.

Además, sus conciertos en el Honda Center de Anaheim y en el Microsoft Theater de Los Ángeles colgaron el cartel de "agotadas todas las localidades", un fenómeno que también tuvo lugar en numerosas de sus presentaciones.

Su más reciente álbum es "Esto sí es cumbia", grabado en Yucatán, México. Fue lanzado al mercado el pasado verano y contó con la participación de artistas como Ha*Ash, Gloria Trevi, Miguel Bosé y Fito Páez, entre otros.

Su más reciente sencillo es "Nunca es suficiente", en el que colaboraron con Natalia Lafourcade. El tema fue incluido en la lista "Best of 2008 (Lo mejor de 2008)" de Apple Music y se posicionó en sexta posición en la lista de éxitos radiofónicos. "Nunca es suficiente" cuenta con más de 480 millones de visionados en la plataforma YouTube.
Durante su gira de este año, los fanáticos de Los Ángeles Azules disfrutarán de un concierto en el que la banda interpreta algunos de sus éxitos más celebrados, como "El listón de tu pelo", "Cómo te voy a olvidar", "Mi niña mujer", "Entrega de amor", "Mis sentimientos" y "17 años".
Se tratará, sin duda, de un concierto inolvidable.
Read More