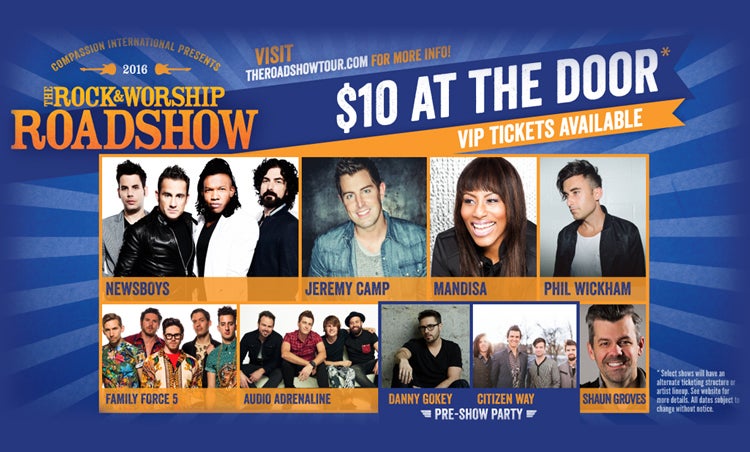 The 8th annual Rock & Worship Roadshow, presented by Compassion International, announces a new roster of artists for the 2016 tour. Christian music favorites Newsboys, Jeremy Camp and Mandisa will be performing, along with Phil Wickham, Family Force 5 and Audio Adrenaline. A pre-show party will take place before each show with artists Danny Gokey (host) and Citizen Way, and Shaun Groves returns to the Rock & Worship Roadshow as the event's guest speaker.
"We are so excited to be a part of the Rock and Worship Roadshow 2016!" shares Michael Tait of Newsboys. "While we have been blessed to play thousands of shows all over the globe, this is actually our first time being a part of the 'Roadshow' tour, and we can't wait to join Compassion International and the other artists to reach communities all around the country."
General admission will be $10 per person at the door. A VIP ticket will also be available for $50 per person, which will include a Q&A with Jeremy Camp, Mandisa and other artists, early entrance for premium seating, an exclusive tour t-shirt, a VIP laminate, a 40-song digital download from New Release Today and more. For Newsboys' super fans, a "Newsboys Experience" ticket will also be available that will include all the benefits of the VIP ticket along with an exclusive meet & greet with the chart-topping band. To purchase VIP and Newsboys Experience tickets, please visit the tour's website www.theRoadShowTour.com.
ENTRY INSPECTIONS
All guests entering the arena are subject to a metal-detector screening, visual inspection, and bag inspection conducted by Citizens Business Bank Arena Security personnel. The purpose of the inspection is to detect prohibited items and is for the safety of our guests and our staff.
Read More