ROD STEWART
With Special Guests Pat Benatar & Neil Giraldo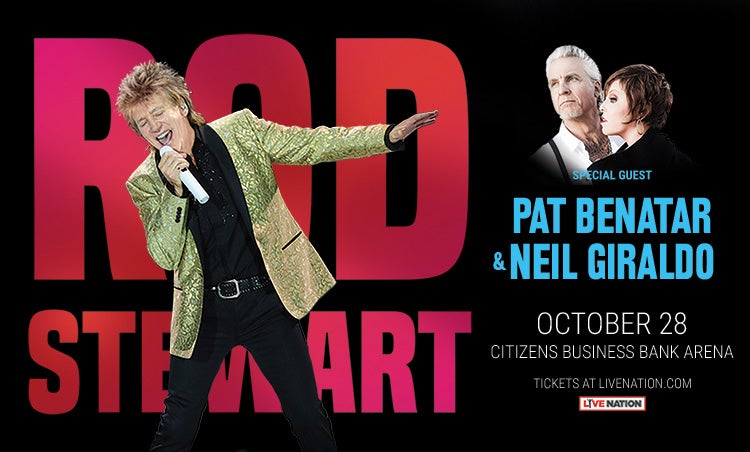 Two-time Rock & Roll Hall of Fame inductee, Rod Stewart has added a concert at Citizens Business Bank Arena in Ontario, California, with very special guests Pat Benatar and Neil Giraldo on October 28 at 7:30 PM to his extensive 2018 touring schedule. Tickets are available via Ticketmaster.com and Citizens Business Bank Arena box office. Visit RodStewart.com for more information.
The international superstar's critically-acclaimed new show delivers non-stop, chart-topping hits spanning his five-decade-long career including, "Infatuation," "You Wear It Well," "Maggie May," "Forever Young," "Da Ya Think I'm Sexy," "Stay With Me," "The First Cut is the Deepest," "Tonight's the Night," "Hot Legs," as well as a couple songs off his highly-anticipated new album, "Blood Red Roses" which is scheduled for release this fall.
Rod Stewart is one of the best-selling artists in the history of recorded music, with over 200 million records sold worldwide. His signature voice, style and songwriting have transcended all genres of popular music, from rock, folk, soul, R&B, and even the Great American Songbook; making him one of the few stars to enjoy chart-topping albums throughout every decade of his career. He's earned countless of the industry's highest awards, among them, two inductions into the Rock and Roll Hall of Fame, the ASCAP Founders Award for songwriting, New York Times bestselling author, Grammy™ Living Legend, and in 2016 he officially became "Sir Rod Stewart" after being knighted by Britain's Prince William at Buckingham Palace for his services to music and charity. He's currently putting the final touches on his highly-anticipated new album, "Blood Red Roses" which is scheduled for a fall 2018 release. For more information visit rodstewart.com.
Pat Benatar and Neil "Spyder" Giraldo, four-time Grammy winners, married 36 years, musical partners for 39 years…..
Pat Benatar and Neil Giraldo met each other in 1979 for the first time, in a small rehearsal room at SIR studios in New York City. The rest as they say, "is history." Pat Benatar's staggering vocal range and Neil Giraldo's trailblazing artistry as a guitarist, producer, songwriter and arranger, together forge the undeniable chemistry and unprecedented sound that created some of rocks most memorable hits, including "Love Is a Battlefield," "Heartbreaker," "We Live for Love," "We Belong," and the signature, "Promises in The Dark." Together they have sold over 30 million albums worldwide and won an unprecedented, four consecutive Grammy awards.
In 1982, Benatar and Giraldo were married and have two grown daughters. Their rock and roll love affair has endured for more than three and a half decades. Pat and Neil continue to tour, selling out concerts and wowing audiences everywhere. Theirs is a chemistry that will undoubtedly be thrilling music fans forever.
Don't miss your chance to see Rod Stewart with special guests Pat Benatar & Neil Giraldo at Citizens Business Bank Arena on October 28. Tickets start at $59.50 plus applicable service charges. The Citizens Business Bank Arena is located at 4000 E. Ontario Center Parkway, Ontario, CA 91764, 909-244-5500.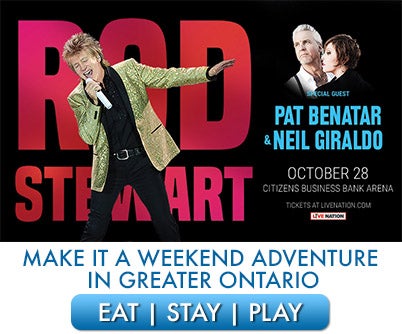 Read More
7:30 PM
6:00 PM
$20 parking fee. $40 fee for Busses, Limos or RVs.
---
7:30 PM
6:00 PM
$20 parking fee. $40 fee for Busses, Limos or RVs.
---