Toby Keith
That's Country Bro! Tour
With special guest Ned Ledoux!
DON'T MISS THE PRE-SHOW PARTY ON THE PATIO!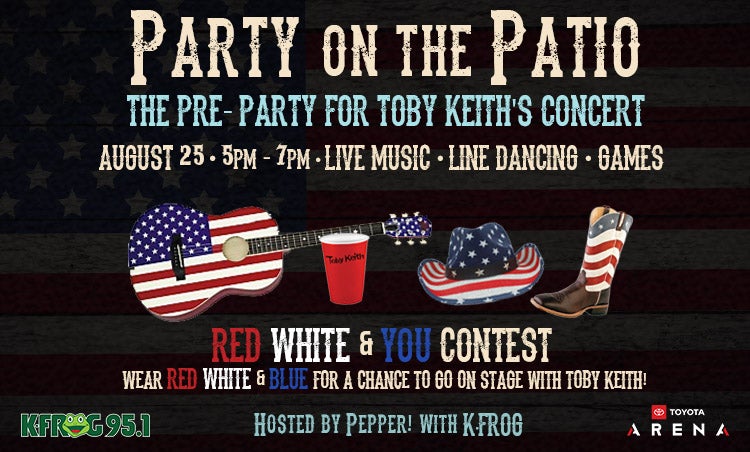 The familiar maxim of the triple threat – singer, songwriter, musician – doesn't begin to cover it for Toby Keith, one of the modern era's most complete self-directed hit makers. And Keith's most recent months are a remarkably accurate representation of his entire career. At the close of 2018, he celebrated the 25th anniversary of his debut No. 1 single, "Should've Been A Cowboy" with the re-release of his debut album (remastered with the addition of three vault tracks), a week of events in Nashville including a BMI event to commemorate the milestone, two shows at the historic Grand Ole Opry, and a performance at the Nashville Symphony Ball where he received the prestigious Harmony Award. Keith also released a new song, "Don't Let The Old Man In," which was inspired by a conversation he had with Clint Eastwood and was later featured in Eastwood's movie, "The Mule." Rounding out the year full of music-related accomplishments was his 15th Annual Toby Keith & Friends Golf Classic which raised more than $1 million, bringing the annual event's total funds raised to $12.4 million, to support the charitable endeavors of The Toby Keith Foundation which includes aiding sick children and their families in Oklahoma.
Toby also honored the 25th anniversary of the release of his debut single with his aptly-named tour "Should've Been A Cowboy XXV Tour." From the moment that song was released and shot up the charts to become his first No. 1, the engine driving everything has been the music. He writes it. He arranges and produces it. And he releases it on his own record label, Show Dog Nashville. At the core is his songwriting, as recognized in his 2015 induction into the Songwriters Hall Of Fame in New York City. That year Robert Hunter and Jerry Garcia of the Grateful Dead, Willie Dixon, and other songwriters from all genres of music were also included in his induction class. The Nashville Songwriters Association International named him Songwriter/Artist of the Decade and he is a three-time BMI Country Songwriter/Artist of the Year.
His songs have received more than 92 million BMI performances on commercial radio stations worldwide, making him the organization's top country songwriter in terrestrial country radio. Keith's albums have sold more than 40 million copies. His tours have drawn more than a million fans each year for more than a decade straight, with recent expansion into Europe and Australia. The awards are too numerous to count and include Artist of the Decade nods from Billboard and the American Country Awards, as well as the ACM's Career Achievement honor, Poet's Award recipient, and twice their Entertainer of the Year award winner in back-to-back years. A musician's musician, he was a last minute illness stand-in for the late Merle Haggard a few years back and responded to Merle's query about which of the legend's songs Keith knew and could cover with, "All of 'em." And there have been some unexpected highlights along the way as well, including country's most impactful viral event, "Red Solo Cup," the video for which has received more than 50 million views and was named ACM Video of the Year. Outside of music, his successes carry through to business endeavors including Wild Shot, his premium mezcal liquor products, and I Love This Bar and Grill restaurants including the original location which has been operating for more than a decade on the famed Las Vegas Strip. Toby's most rewarding experiences, however, have come from giving back locally, nationally and abroad.
His golf classics fund The Toby Keith Foundation 2 and OK Kids Korral, a cost-free home for families of children dealing with critical illnesses. His 11 USO Tours to date have enhanced the lives of nearly 256,000 troops and military families in 18 countries with more than 285 events, and have been recognized with the Spirit of the USO Award (2014). Many songs Keith has written while on the USO Tours for the military are featured on his 2017 album The Bus Songs, a 12-song collection of humorous, just-for-fun compositions that set a Billboard Comedy Albums chart record for a country artist by holding the No. 1 spot for 11 consecutive weeks. And when a tornado ravaged his hometown, Toby Keith was the face of the community and helped shoulder the cleanup with the 2013 OK Twister Relief Concert. Triple threat? How about singer, songwriter, musician, producer, entertainer, humanitarian, Oklahoman and patriot. For starters.
---
Ned Ledoux
In country music, a last name like LeDoux casts a big, storied and bittersweet shadow, but it's one Ned LeDoux doesn't mind standing in one bit. Having been a drummer in his dad Chris' band Western Underground since 1998, Ned knew from an early age that he had "no plan b" but to play music, "Once I got the taste of the road, and being in front of a crowd and just the sound of it, it was...freedom."
When his dad passed away in 2005, Ned continued to tour with his father's band to keep the musical spirit of Chris LeDoux alive. This drove him to pick up the guitar and try his hand at some of his dad's songs. It started with "Rodeo Man," and before long Ned had a whole catalogue of his father's early hits ready to play. When the other band members heard Ned's voice, he found himself front and center singing at the shows. Stepping out from behind the drums stirred something inside of Ned that he hadn't felt before, "It's a different kind of rush, getting up with a guitar and standing behind a microphone...shoot I'm getting butterflies thinking about it right now."
The timing couldn't be more right for Ned to pick up a guitar and belt out "Western Skies;" it has been over 10 years since Chris LeDoux passed and he believes people want to hear something new. Ned has boxes of song ideas his dad never finished and is digging through those for inspiration, "I will kind of stick with what dad used to do but bring my own stuff to the table." In July of 2015, Ned traveled to Nashville with some of those unfinished songs and met up with Mac McAnally to put that inspiration to work. Mac produced Chris' last two studio records and wrote his hit "Horsepower," so the collaboration with Ned was a natural fit and lead to the first new Chris LeDoux co-writes in nearly two decades.
Keeping the cowboy in country is important to Ned as you can hear in the song "Forever A Cowboy" also co-written with his dad. Ned puts his own spin on his endless touring with "Brother Highway" about all the time he has spent on the road with various bands since his days in high school. Ned says he doesn't even need a road map anymore–that he and the highway are like brothers. He wants to write songs about what he knows, keep the themes simple and harken back to the sound of good ole country music but with an edge.
For the last year, Ned has been steadily touring and opening for acts like Toby Keith, Garth Brooks, Aaron Watson and Brother's Osborne. Yet now that he is in front of the mic, Ned has a new goal. "There's an age group who doesn't know who Chris LeDoux is and I just want to keep his name out there. I want to reintroduce him to people who've maybe heard of him but didn't know what he did. Just carry on his legacy and carry on his music and at the same time show them what I can do."
On tour, you're guaranteed to hear "This Cowboy's Hat" the song most requested by his fans and a request Ned is honored to oblige. His personal favorite song to sing though is one called "We Ain't Got It All." It's the first original song Ned co-wrote with his dad and seems to pick up right where Chris left off. And with his debut album "Sagebrush" available now, there is a new voice to carry on the LeDoux sound.
Read More