Directions To The Arena
Unfortunately several mapping engines for websites that provide custom driving directions to the Arena have incorrect information. Please use the map and directions to the Arena provided on the official Toyota Arena website.
The venue is located very close to the intersections of I-10 and I-15, in the Inland Empire.
If you drive, please consider carpooling.
Rideshare Drop-off/ Pick Up Point
Access the Rideshare / Drop Off / Pick Up area from Fourth Street traveling south on Via Asti to the North West corner of the venue.
*Note – due to egress shut down of several streets Via Asti is the only access to this area.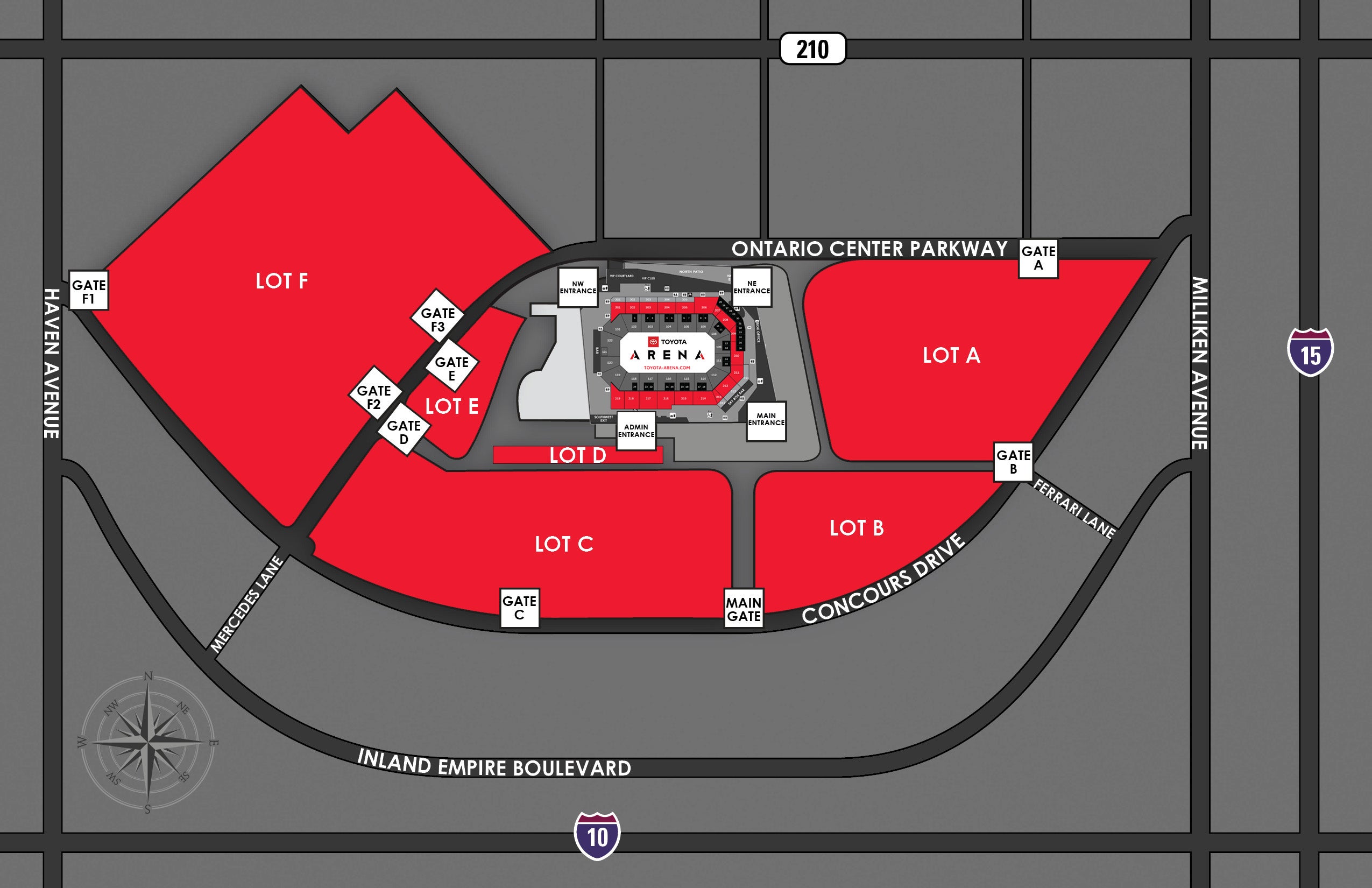 Alternative Transportation
We encourage guests to consider walking, biking, taking public transit, or carpooling to avoid traffic, save on gas and parking, and reduce your carbon footprint. Use the map above to find the best route based on your mode of transportation and location, and see below for information on specific options.
Metrolink Trains: The Arena is a short bus or taxi ride from the Metrolink Rancho Cucamonga station
Omnitrans Bus: The Arena is accessible via Omnitrans bus – the nearest bus stop if Concours/Mercedes
Bicycling: Bicycle racks are available at the Arena
Air Travel
OOntario International Airport (ONT) is one of the fastest growing airport in the United States. It is conveniently located within 2 miles of Toyota Arena. It is a full-service airport. More information is available at www.flyOntario.com.
Parking Fees
Parking prices vary according to the event, please check the show information page for details. For more information please call -909-244-5500.
The parking attendants accept major credit cards(no cash); MasterCard, VISA, American Express and Discover. Parking Rates may vary depending on event/show.
The parking lots in the surrounding businesses are restricted. Pleae take caution to street signage. Cars parked in restricted parking zones are subject to being towed.
Coming from the West - Start point: I-10 heading East

Take I-10/San Bernardino Freeway East towards San Bernardino
Take the HAVEN AVENUE exit (ramp is on the right-hand side)
Turn LEFT onto NORTH HAVEN AVENUE
Travel about a half mile NORTH on NORTH HAVEN AVENUE
Turn RIGHT onto CONCOURS DRIVE
The building and its parking lots will be located about a half mile up on the LEFT

Coming from the East - Start point: I-10 heading West

Take I-10/San Bernardino Freeway West towards Los Angeles
Take the MILLIKEN AVENUE exit (ramp is on the right-hand side)
At the end of the exit ramp, Turn LEFT onto MILLIKEN AVENUE
Travel less than a half mile NORTH on MILLIKEN AVENUE
Turn LEFT onto CONCOURS DRIVE
The building and its parking lots will be located about a half mile up on the RIGHT

Coming from the North - Start point: I-15 heading South

Take I-15/Ontario Freeway South towards Ontario
Take the FOURTH STREET exit (ramp is on the right-hand side)
Turn RIGHT onto FOURTH STREET
Travel about a half mile WEST on FOURTH STREET
Turn LEFT onto MILLIKEN AVENUE
Turn RIGHT onto CONCOURS DRIVE
The building and its parking lots will be located about a half mile up on the RIGHT

Coming from the South - Start point: I-15 heading North

Take I-15/Ontario Freeway North towards Barstow
Exit on the RIGHT SIDE ramp to I-10 San Bernardino Freeway WEST
Take I-10/San Bernardino Freeway West towards Los Angeles
Take the MILLIKEN AVENUE exit (ramp is on the right-hand side)
At the end of the exit ramp, Turn LEFT onto MILLIKEN AVENUE
Travel less than a half mile NORTH on MILLIKEN AVENUE
Turn LEFT onto CONCOURS DRIVE
The building and its parking lots will be located about a half mile up on the RIGHT
Links