Anuel AA Announces New Concert Tour: Las Leyendas Nunca Mueren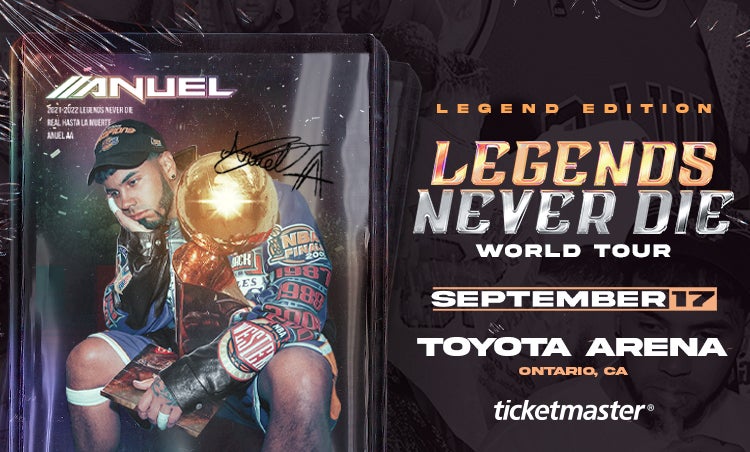 (Ontario, CA | April 8, 2022) Renowned Latin megastar Anuel AA, announces a new concert tour named after his most recent studio album: Las Leyendas Nunca Mueren - coming to Toyota Arena on Saturday, September 17, 2022. This tour is made possible thanks to CMN (Cárdenas Marketing Network); concert goers can start purchasing their tickets now through the www.cmnevents.com or Toyota-Arena.com.
Since his official return to the music industry, there has not been one single venue
that the iconic urban idol has not sold out. It is his extraordinary ability to
consistently and systematically attract audiences worldwide by creating music
that sincerely stems from his heart, accumulating millions of fans throughout the
world.
At the end of 2019, Anuel AA (performer, composer, and entrepreneur)
completed his hugely successful European Tour EMMANUEL. Three years later,
after the devastating COVID-19 pandemic, the singer of "McGregor" is ready to
return to the big stages, embarking on his new concert tour Las Leyendas Nunca
Mueren produced by CMN, whose impeccable credibility is born from its successful productions for artists such as Nicky Jam, Marc Anthony, Bad Bunny, Becky G, Daddy Yankee, among others.
"Toyota Arena offers many options to upgrade your entertainment experience", said Michael Krouse – President & CEO of Toyota Arena. "VIP Club access or VIP parking can be purchased online with your ticket, or contact us about a Party Suite to enhance the evening. We are looking forward to this amazing performer in concert."
About CMN
CMN is the leader in Live Latin entertainment. As a multicultural agency, our common goal is to create and build unique experiences between fans, artists and brands. Henry Cárdenas, entrepreneur, philanthropist and founder of CMN, is a pioneer in bringing Latin entertainment and live sport events to the United States. The Chicago-based company with offices in Miami operates through professionals constantly creating cutting-edge experiences and producing the best events in the country. To learn more about CMN and its roster of artists, visit www.cmnevents.com or follow us at @cmnevents.
About TOYOTA ARENA
Toyota Arena, located in Southern California, built and owned by the City of Ontario, managed by SMG Worldwide, continues to win awards for the best entertainment venue in the region. The 225,000 square foot venue can accommodate capacities up to 11,000 for concerts, family shows, and sporting competitions. The arena features 36 luxury suites located on two levels and a continuous concourse hosting a variety of refreshment stands, merchandise kiosks, a VIP club and other fan amenities. Toyota Arena is proud to be recognized for cleaning and disinfecting to a higher standard to keep our space clean and safe for occupancy with a GBAC Star Accreditation. Toyota Arena hosts a variety of sporting competitions, concerts, family shows, special events, graduation ceremonies and community activities as well as private events. The Arena is home to Ontario Reign, an AHL Hockey Team, and Ontario Fury, a MASL Soccer Team and the Aqua Caliente Clippers of Ontario, a G league basketball team. Toyota Arena is the biggest and most modern arena within the region, an area with over 4.7 million people. It is located in the City of Ontario, California, on a 37-acre parcel located between Haven Avenue and Milliken Avenue, Fourth Street and the I-10 Freeway. For more information visit Toyota-Arena.com
Arena Contact:
Veronica Avila
Marketing Manager
909.244.5526