Aug 3, 2017
Citizens Business Bank Arena Celebrates 45% Attendance Increase in 2016/17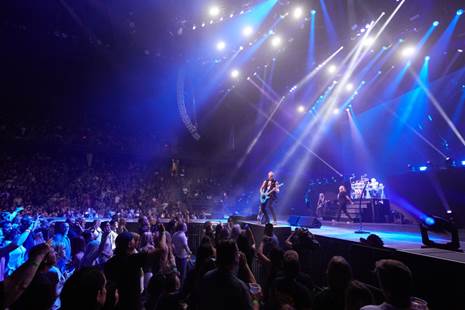 Thursday, August 3, 2017 (Ontario, California) SMG, the world leader in venue management, took over management of Citizens Business Bank Arena in Ontario, California on July 1, 2016. One year later, the results are in and they prove the decision by the City of Ontario to change management services at Citizens Business Bank Arena was a very good move. "We are thrilled that during our first year of management the attendance (outside of the home team sporting events) increased by 45%," said Michael Krouse, President & CEO of Citizens Business Bank Arena and Regional Vice President for SMG. "Our goals this past year were to improve attendance, increase food and beverage options, and upgrade the overall guest experience," added Krouse.
SMG has also worked tirelessly to bring a diverse mix of events to the City of Ontario. Recent sell-outs by Def Leppard and Tim McGraw/Faith Hill have proven the market will support big name events. In May, SMG and the Los Angeles Clippers announced that the Clippers new development league team, the Agua Caliente Clippers of Ontario will be moving to Ontario. This team will add to the entertainment options at Citizens Business Bank Arena and to the already busy arena calendar. "We are proud to team-up with the Agua Caliente Band of Cahuilla Indians to bring highly competitive professional basketball to the Inland Empire," said Clippers President of Business Operations Gillian Zucker. "This region has already demonstrated enormous passion for the Clippers. Locating our team in Ontario allows us to reward that enthusiasm and continue to build a deep connection with these fans by offering affordable, family fun right in their backyard."
SMG has also improved the food and beverages options to the delight of guests. The all new street tacos have been a fan favorite, along with the carne asada nachos and the slow roasted brisket sandwich with homemade BBQ sauce. New partnerships have been developed including Hanger 24 Craft Brewery, Jimmie John's, and Chick Fil A. Prior to two sold out concerts, Def Leppard and Tim McGraw/Faith Hill, an early outdoor party experience offered dining options, concert merchandise, games and vendors. Part of the overall improvement of the guest experience has been providing excellent food and beverage options. Since taking over management, Premier Foods by SMG has increased sales by 14%. Not only the fans have recognized the quality, the entertainers have expressed their appreciation for the quality, taste, and presentation of food at Citizens Business Bank Arena.
Other initiatives implemented by SMG during this first year of management include the following:
Installation of High-Speed Wi-Fi
Ticketing platform returned to Ticketmaster
Suite scanners were installed -the arena was the first in the nation to install this type of scanner system.
New food and beverage menus and partners including Hanger 24 Craft Brewery, with several more options coming soon
New paint, wall coverings, and flooring improvements have begun and will continue thru 2018
SMG currently manages Ontario Convention Center, Ontario Town Square, Citizens Business Bank Arena, the Greater Ontario Convention & Visitors Bureau including the California Welcome Center at Ontario Mills and produces signature events such as Route 66 Cruisin' Reunion. The overall synergy created by utilizing all the marketing resources to co-promote events is making a difference. There are over 6,000 hotel rooms in the Greater Ontario region. The management of those hotels are provided with a monthly calendar of arena and convention center events. Currently six electronic marquees are advertising upcoming events at the Arena on a regular basis. With the new, larger LED marquee sign build that will be in place by the fall of 2017, plus 5 other local marquees and an additional 10 electronic sign boards throughout the region coming this fall the promotional reach for upcoming shows will reach over 2.2 million people daily.
Overall, Citizens Business Bank Arena is being upgraded to a better venue that provides the local, regional, and Southern California fans with the best entertainment experience possible.
About CITIZENS BUSINESS BANK ARENA:
Citizens Business Bank Arena built and owned by the City of Ontario, operated by SMG, can accommodate over 11,000 guests. The 225,000 square foot venue features 36 luxury suites located on two levels and a continuous concourse hosting a variety of concession and refreshment stands, merchandise kiosks, the San Manuel VIP Club and other fan amenities. Citizens Business Bank Arena hosts over 125 events annually including concerts, family shows, and sporting competitions. The Arena is home to several sport teams including: Ontario Reign (American Hockey League), Ontario Fury (Major Arena Soccer League), Aqua Caliente Clippers of Ontario (G League Basketball), and LA Temptation (Legends Football League).
Since opening in 2008, Citizens Business Bank Arena is the biggest and most modern arena within the Inland Empire, an area with over 4.3 million people. It is located in Southern California, in the City of Ontario, on a 37-acre parcel located between Haven Avenue and Milliken Avenue, Fourth Street and the Interstate 10. For more information and future updates please visit: CBBankArena.com
About SMG:
SMG turns 40 in 2017! Celebrating its 40th anniversary and founded in 1977, SMG provides management services to 233 public assembly facilities including convention and exhibition centers, arenas, stadiums, theaters, performing arts centers, amphitheaters, equestrian facilities, science centers and a variety of other venues. With facilities across the globe, SMG manages more than 15 million square feet of exhibition space and more than 1.5 million sports and entertainment seats. As the recognized global industry leader, SMG provides venue management, sales, marketing, event booking and programming, construction and design consulting, and pre-opening services for such landmark facilities as McCormick Place & Soldier Field in Chicago, Moscone Convention Center in San Francisco, Houston's NRG Park and the Mercedes-Benz Superdome in New Orleans. SMG also offers food and beverage operations through its concessions and catering companies, currently serving more than 140 accounts worldwide. For more information visit www.smgworld.com