Jul 20, 2018
Citizens Business Bank Arena climbs to New Record
Pollstar Year Mid Year Rankings Announced
Thursday, July 19, 2018 (Ontario, California) Citizens Business Bank Arena is one of the World's Top 200 Arena Venues per the annual Pollstar Mid Year Rankings Report recently announced which is based upon concert ticket sales from January 1 – June 30, 2018. Citizens Business Bank Arena, managed by SMG Worldwide, has the highest rankings ever with #17 domestically and #37 worldwide. "We're on fire with booking shows and events" said Michael Krouse, President and CEO of Citizens Business Bank Arena. "Our guests and sponsors are thrilled to have top notch entertainment – this was a goal we had when we took over management of the venue on July 1, 2016. All the hard work is paying off; but we're not done, we're making improvements to the overall entertainment experience in addition to staying focused on booking amazing acts! We want to thank all of the fans and promoters that have helped make this new record possible." Citizens Business Bank Arena is the highest grossing arena in the SMG portfolio in the United States.
As of June 4, 2018, Citizen Business Bank Arena ranked #14 in the 2018 Mid-Year Top Stops in the 10,001-15,000 capacity worldwide ranking from October 16, 2017-May 15, 2018. Note in the chart below that there was only one other Arena in the United States that ranked above Citizens Business Bank Arena.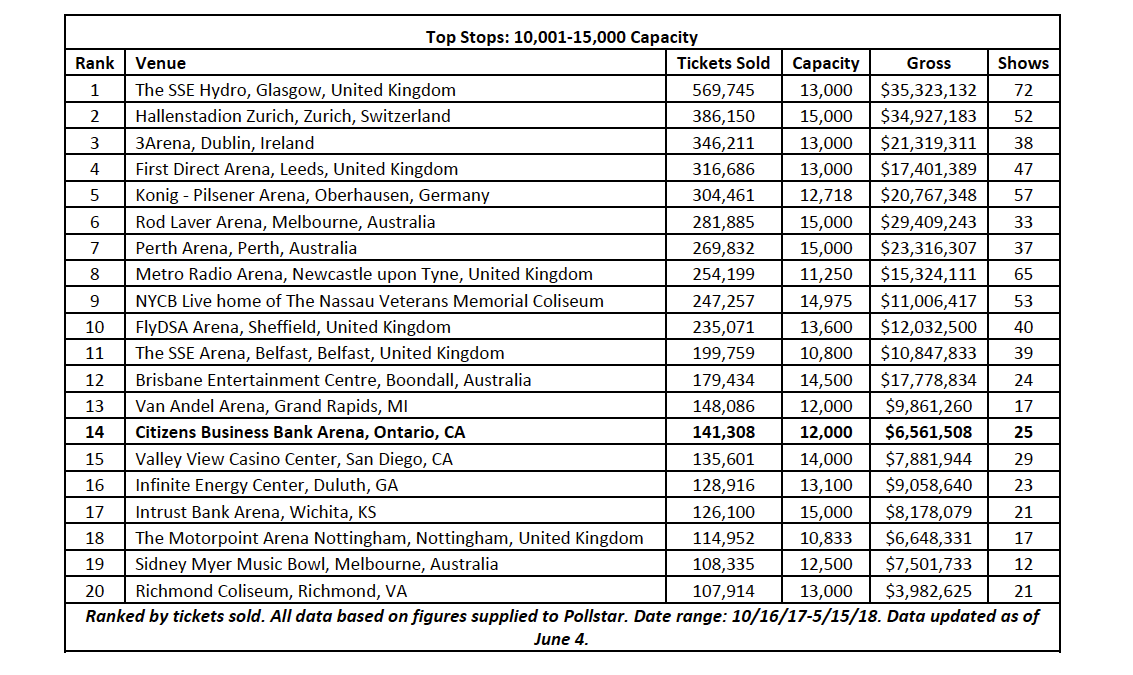 This is a major milestone. Two years ago, when SMG took over management of the Arena it ranked #193, last year it ranked at #95, and now #14 in this category. Pollstar is the leading international publication for the concert industry, which publishes quarterly, mid-year and annual rankings of top arenas in ticket sales worldwide.
This Fall the Arena calendar is full of entertainment options for everyone. Just announced- Rod Stewart with special guests Pat Benetar & Neil Geraldo. Additional concerts in the Fall include Five Finger Death Punch, Mike Epps, and more to be announced soon. Three home teams will start their new season, plus other sporting competitions including Professional Bull Riding, and MMA King of the Cage. Family shows like Cirque Musica, WWE, Disney on Ice and Trans-Siberian Orchestra round out a very exciting schedule of shows.
---
ABOUT CITIZENS BUSINESS BANK ARENA
Citizens Business Bank Arena built and owned by the City of Ontario, operated by SMG, can accommodate over 11,000 guests. The 225,000-square foot venue features 36 luxury suites located on two levels and a continuous concourse hosting a variety of concession and refreshment stands, merchandise kiosks, the San Manuel VIP Club and other fan amenities. Citizens Business Bank Arena hosts over 125 events annually including concerts, family shows, and sporting competitions. The Arena is home to several sport teams including: Ontario Reign (American Hockey League), Ontario Fury (Major Arena Soccer League), Aqua Caliente Clippers of Ontario (G League Basketball), and LA Temptation (Legends Football League).
Since opening in 2008, Citizens Business Bank Arena is the biggest and most modern arena within the Inland Empire, an area with over 4.3 million people. It is located in Southern California, in the City of Ontario, on a 37-acre parcel located between Haven Avenue and Milliken Avenue, Fourth Street and the Interstate 10.
For more information visit CBBankArena.com
---
ABOUT SMG
Founded in 1977, SMG provides management services to more than 240 public assembly facilities including convention and exhibition centers, arenas, stadiums, theatres, performing arts centers, equestrian facilities, science centers and a variety of other venues. With facilities across the globe, SMG manages more than 15 million square feet of exhibition space and more than 1.5 million sports and entertainment seats. As the recognized global industry leader, SMG provides venue management, sales, marketing, event booking and programming, construction and design consulting, and pre-opening services for such landmark facilities as McCormick Place & Soldier Field in Chicago, Moscone Convention Center in San Francisco, Houston's NRG Park and the Mercedes-Benz Superdome. SMG also offers food and beverage operations through its concessions and catering company SAVOR, currently serving more than 140 accounts worldwide.
For more information visit www.smgworld.com