May 19, 2017
Citizens Business Bank Arena historical display helps reconnect brothers after 41 years!
On the main concourse of Citizens Business Bank Arena a tribute to the historic California Jam concerts includes a display of photos, newspaper articles and memorabilia.The land where Citizens Business Bank Arena was built in 2008 was the former Ontario Motor Speedway where 2 mega concerts occurred in 1974 and 1978. Over 250,000 music fans gather at each show for a stellar line up of artists including The Eagles, Fleetwood Mac, Foreigner, Deep Purple, Aerosmith, Santana, just to name a few.
Last year while attending an Ontario Reign hockey game Patrick Walters enjoyed reminiscing about the concerts he had attended. He took a photograph in front of the display and posted it on facebook. That photo ultimately lead to an amazing event. Patrick was able to reconnect and find his long lost brother, Bill Walters, that he had not seen in over 41 years.
Ironically, on Friday, May 12, 2017 when the reunited brothers came to Citizens Business Bank Arena the woman that had created the display was on site. "I knew the story of Cal Jam 1 and 2 would be an education for some and a memory for others" said Sue Oxarart, Director of Marketing "but I never thought it could impact anyone in this way. It was an honor to provide the tour for these brothers and witness them reliving an experience they had shared."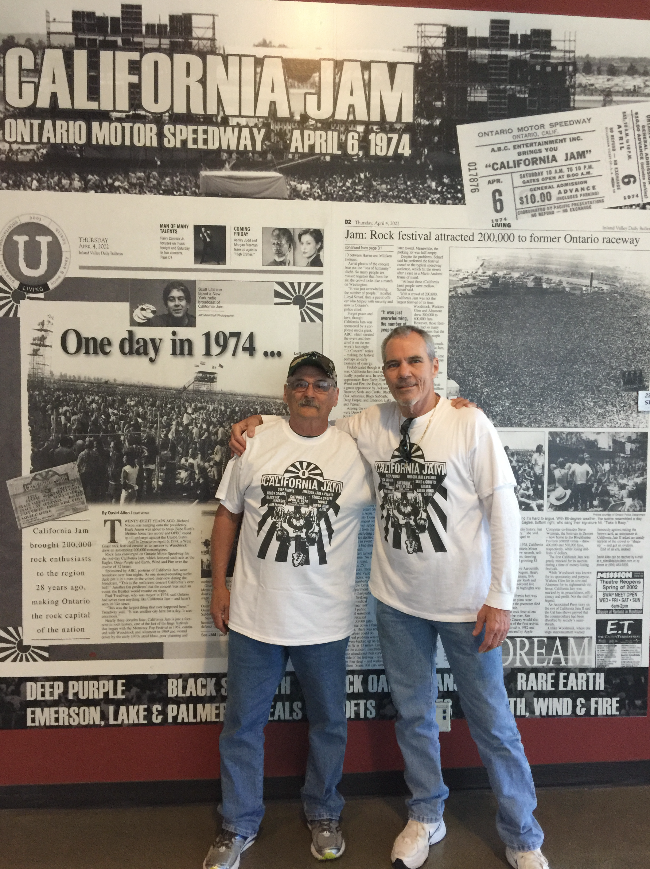 The two brothers took a photo together, shared a lot of hugs and tried to find the exact spot in the crowd on the aerial photograph where the brothers had enjoyed the concert. This was social media at it's finest – connect and reconnect. Big thumbs up!