DEAR RODEO: THE CODY JOHNSON STORY RIDES INTO ONTARIO, CAAUGUST 10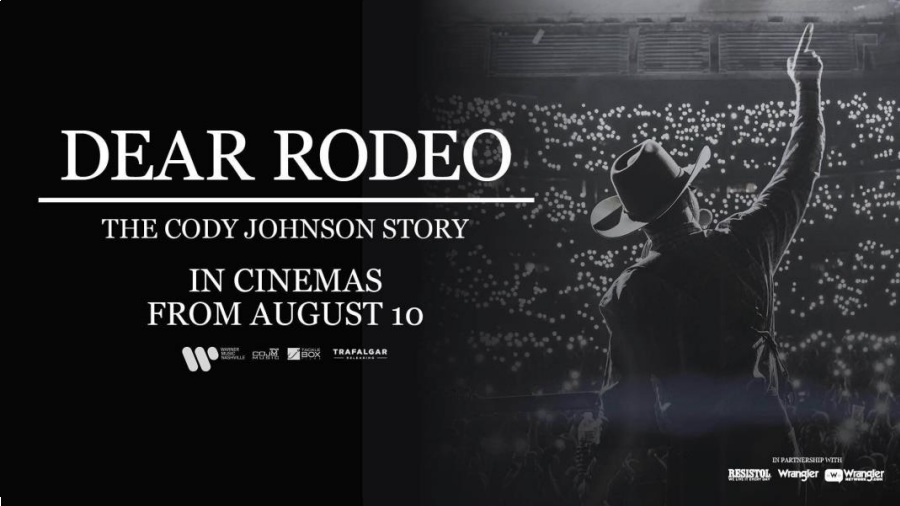 Ontario, CA…COJO Music/Warner Music Nashville and Trafalgar Releasing are proud to announce a theatrical event release for Dear Rodeo: The Cody Johnson Story, with limited screenings beginning August 10. The film, from rising country music superstar Cody Johnson and Tacklebox Films, recounts Johnson's real-life journey from the dusty rodeo arenas of rural Texas to some of the biggest musical stages in America. With guest appearances by Reba McEntire, Navy Seal Chris Kyle's widow Taya (Kyle), Houston Ranch's James Barton, along with Johnson's wife Brandi (Johnson), his producer Trent Willmon, his pastor Randy Weaver and his high school teachers, Johnson opens up about how his years on the rodeo circuit fortuitously prepared him for his life as a country star.
The evocative and celebratory Dear Rodeo: The Cody Johnson Story will be screened in select movie theaters nationwide on Tues., Aug. 10, 2021, including:
• AMC Ontario Mills 30, 4549 Mills Cir., Ontario, CA 91764
• Harkins Chino Hills 18, 3070 Chino Ave., Chino Hills, CA 91709
• Regal Edwards Corona Crossings, 2650 Tuscany St., Corona, CA 92881
Visit www.codyjohnsonfilm.com for ticketing and the most up-to-date information regarding participating theaters.
Producers are offering fans a chance to win 2 tickets to the movie showing of Dear Rodeo on August 10th AND 2 tickets to Cody Johnson live at Toyota Arena on October 8 th .
Visit the Toyota Arena Facebook page and Toyota-Arena.com for your chance to win.
Cody, along with special guests, Easton Corbin, and Ian Munsick will be performing LIVE on stage at the Toyota Arena on Friday, October 8 th. Tickets for that show will be on-sale Friday, August 6th and available at Ticketmaster.com and the Toyota Arena Box Office.
Johnson's hit song, "Dear Rodeo," paints the heartbreaking picture of how the rodeo was his first love that got away. But a four-minute song isn't enough to tell the full story of his move from the rodeo to the radio. The brand-new cinematic feature-length documentary, directed by Shaun Silva, is the much bigger picture. As Johnson says, "It went from being my life story to being everybody's life story." The film goes deeper than an autobiography, sharing more than just Johnson's story. It's a love letter to everyone who has had to abandon a dream in order to find true purpose.
Dear Rodeo: The Cody Johnson Story takes viewers on the rollercoaster of emotions Johnson rode on his journey to success beyond his wildest dreams. The film starts with Johnson's first attempts at bull riding in high school - just a rookie, but enough of a hotshot to get on bulls he had no business getting on and learned the hard way that nobody's going to pick you up and dust you off. With never-before-seen footage of Johnson's first times on stage during high school Future Farmers of America talent shows, and videos from his countless bull rides, fans will see what it looked like behind the scenes as he was shifting gears.
Every emotion Johnson felt over the past 20 years – whether he was standing in the back of the chute at the rodeo or singing about it in front of 75,000 fans – is captured vividly in this film, with all the highs and lows that come from the dreams you cling to and the dreams you ultimately let go.
"I think oftentimes a cowboy isn't something you do, as much as it is who you really are inside," said Johnson.
"We find a little piece of ourselves in the Cody Johnson story," said Kymberli Frueh, Trafalgar Releasing SVP of Content Acquisitions. "Sometimes the roads you originally walk down take a different turn. It reminds us all to be agile and have faith in what may come. An artist with Cody's musical talent and inspiration make this such a pleasure to share with his fans on the Big Screen."