Hot Wheels Monster Trucks LIVE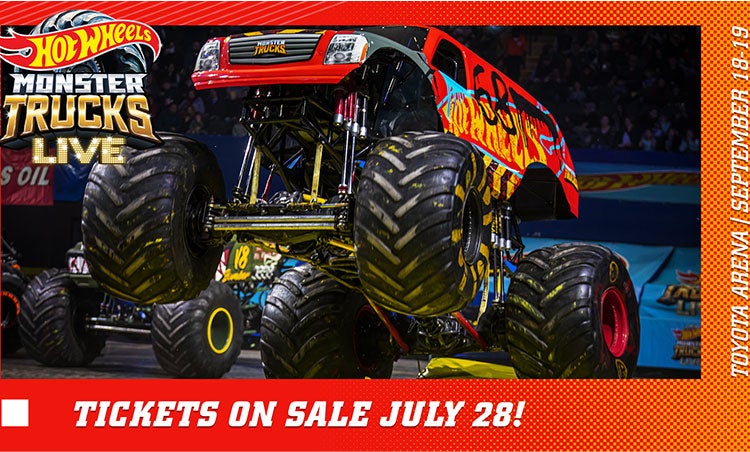 Hot Wheels Monster Trucks Live brings audiences the only opportunity to see real-life versions of the iconic Hot Wheels monster trucks toys including Bone Shaker™, Tiger Shark™, V8 Bomber™, and Demo Derby. The show will also feature the original monster truck, BIGFOOT®. Fans will be fully immersed in exciting show action and fuel-injected playfulness with over-the-top smashing and crashing and epic monster truck competitions and battles! Event performances will also feature a special appearance from the car-eating, fire-breathing transforming robot MEGASAURUS, and the high-flyers of Hot Wheels Monster Trucks Live, Freestyle Motocross!
Show times are as follows:
Saturday, September 18, 2021 – 12:30pm / Crash Zone 10:00am
Tickets HERE
Parking HERE
Saturday, September 18, 2021 - 7:30pm / Crash Zone 5:00pm
Tickets HERE
Parking HERE
Be sure to pre-purchase your parking when you buy your ticket and save! We only accept pre-paid parking or credit cards the day of the event. Day of event parking may be at a higher price.
New policies and procedures are now in place in addition to our Code of Conduct – please read and be prepared to comply:
FACE MASKS are recommended
BAGS or Purses are limited in size to 4" x 5" only
By purchasing a ticket and / or entering Toyota Arena, it is assumed you are fully vaccinated or have received a negative test for COVID-19 within the last 72 hours.
Bring your credit card -In compliance with State Guidelines, food and beverage offerings may be limited or require "cashless" payment, credit card only
For a complete list of policies please click here.
Read More