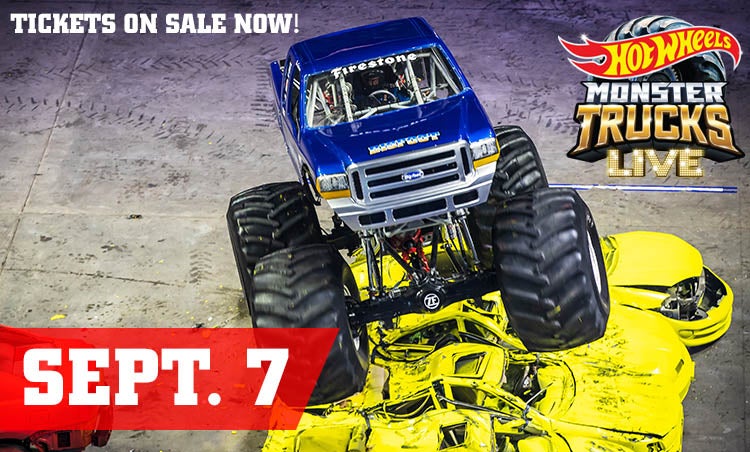 Apr 30, 2019
Hot Wheels™ Monster Trucks Live Announces Tour Stop at Citizens Business Bank Arena on September 7th, 2019
Tickets on Sale Friday, May 3rd
April 30, 2019, Ontario, CA – Hot Wheels™ Monster Trucks Live will visit Citizens Business Bank Arena on September 7th for 2 performances. The inaugural tour launched in January, brings the famous Hot Wheels™ Monster Trucks to life in a full-size, kid-focused, immersive Hot Wheels® experience for the first time ever!
Tickets on sale to the public on Friday, May 3rd at the Arena box office, ticketmaster.com and hotwheelsmonstertruckslive.com. Prices are $42-$35-$25 and kids tickets are $8. Tickets are subject to convenience and facility fees. Show times are as follows:
Saturday, September 7th at 12:30pm and 7:30pm
Hot Wheels™ Monster Trucks Live features six Monster Trucks: Bone Shaker™, Tiger Shark™, V8 Bomber™, Demo Derby, HotWheels® Racing 1 and the original and King of Monster Trucks, BIGFOOT®. The stars of the show perform iconic jumps and stunts with epic crashing and smashing as they entertain fans during several competition segments within the show. In addition, each show features the high-flying talents of freestyle motocross performers Josh Headford, Cody Elkins and Brody Wilson, as well as the fan-favorite Megasaurus, a fire-breathing, car-eating, transforming robot.
The Crash Zone Pre-Show Party will be open prior to all shows, giving fans a chance to come early to meet the Monster Truck drivers, get amazing close-up photos and see the unbelievable new Hot Wheels™ Monster Trucks up close and in person. All patrons with a ticket to these shows are invited to the Crash Zone Pre-Show Party for free! A valid event ticket is required to enter the venue for the Crash Zone Pre-Show Party but does not guarantee entry as there is a Crash Zone event capacity, which will be monitored by the venue on event day. Entry into the Crash Zone Pre-Show Party will be on a first come, first serve basis.
A post-show autograph session will take place on the concourse after every show. Fans have the chance to collect autographs from all the show performers including every Monster Truck driver.
The Hot Wheels™ Monster Trucks Live tour is a partnership between Mattel and Raycom-Legacy Content Company. Visit www.HotWheelsMonsterTrucksLive.com for more information.
About Raycom-Legacy Content Company
Raycom-Legacy Content Company is a large-scale event operation, promotion, television production, licensing, media and public relations firm. The company owns and operates Hot Wheels™ Monster Trucks Live, a nationwide Monster Truck tour visiting more than 20 markets in 2019, its inaugural year. Raycom Legacy Content Company is a partnership between Raycom Sports – a leading independent sports marketing, event management and production firm – and Legacy Motorsports Events – which was co-founded by entertainment and motorsports executives Ken Hudgens, Tim Murray, Eric Cole and Bob Boggess. The company is based in Charlotte, NC.
About Mattel, Inc.
Mattel (NASDAQ: MAT) is a leading global children's entertainment company that specializes in design and production of quality toys and consumer products. We create innovative products and experiences that inspire, entertain and develop children through play. We engage consumers through our portfolio of iconic franchises, including Barbie®, Hot Wheels®, American Girl®, Fisher-Price® and Thomas & Friends®, as well as other popular brands that we own or license in partnership with global entertainment companies. Our offerings include film and television content, gaming, music and live events. We operate in 40 locations and sell products in more than 150 countries in collaboration with the world's leading retail and technology companies. Since its founding in 1945, Mattel is proud to be a trusted partner in exploring the wonder of childhood and empowering kids to reach their full potential. Visit us online at www.mattel.com.
About Citizens Business Bank Arena
Citizens Business Bank Arena, built and owned by the City of Ontario, operated by SMG, can accommodate over 11,000 guests. The 225,000 square foot venue features 36 luxury suites located on two levels and a continuous concourse hosting a variety of concession and refreshment stands, merchandise kiosks, the San Manuel VIP Club and other fan amenities. Citizens Business Bank Arena hosts over 125 events annually including concerts, family shows, and sporting competitions. The Arena is home to several sport teams including: Ontario Reign (American Hockey League), Ontario Fury (Major Arena Soccer League), Aqua Caliente Clippers of Ontario (G League Basketball), and LA Temptation (Legends Football League). Since opening in 2008, Citizens Business Bank Arena is the biggest and most modern arena within the Inland Empire, an area with over 4.3 million people. It is located in Southern California, in the City of Ontario, on a 37-acre parcel located between Haven Avenue and Milliken Avenue, Fourth Street and the Interstate 10. For more information and future updates please visit: CBBankArena.com.
About SMG
Founded in 1977, SMG provides management services to 243 public assembly facilities including convention and exhibition centers, arenas, stadiums, theaters, performing arts centers, equestrian facilities, science centers and a variety of other venues. With facilities across the globe, SMG manages more than 19 million square feet of exhibition space and more than 1.5 million sports and entertainment seats. As the recognized global industry leader, SMG provides venue management, sales, marketing, event booking and programming, construction and design consulting, and pre-opening services for such landmark facilities as McCormick Place & Soldier Field in Chicago, Moscone Convention Center in San Francisco, Houston's NRG Park and the Mercedes-Benz Superdome in New Orleans. SMG also offers food and beverage operations through its concessions and catering companies, currently serving more than 140 accounts worldwide. For more information visit www.smgworld.com.
Janice L. Jimenez
Hot Wheels Monster Trucks Live
Office: 206.774.6782
Arena Contact:
Sue Oxarart
Director of Marketing and Communications
#909.937.3058
Related Event